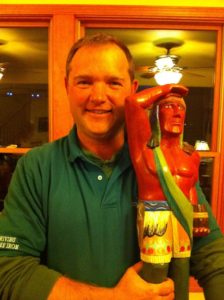 Is it possible for 8 gentlemen to come together in the wilds of Angola Indiana and have more good fun than this group of warriors did? Me thinks not.
Perfect venue: great courses, terrific accomodations, top-notch chow, 2/3 great weather, a new Indian, a renamed Indian, a new first-time Chief, a cool car, stories galore, and Joe didn't break his arm! Need I say more!
Fish (All hail Chief Fish!) did a masterful job, and thanks also to Stilts for another fine piece of scorecard work.