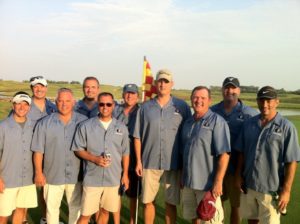 It was an honor being Chief this last year, but I am proud to pass the War Bonnet to Broken Arrow in one of the best photo-finishes of our tribe. The putt is now at 50 feet and growing.
The course was great, the cabins were right in the spirit of the event, the Rattlesnake Saloon was priceless, it was great to have Matt there (Painted Bear), and the tribe was well represented.
We missed Hands for sure, but Schooley's pink pants made up for it. As Matt said though, "been awihle since I've been in a fight!"
So now it's up to Broken Arrow to continue the august tradition… and maybe we'll be traveling to the sunny south again! The Shoals will never be the same!